Pressure
Well. I have been avoiding this for the past week, this posting stuff. My last post turned out unexpectedly crackin'. I was pumped. Then Christmas happened. By the time I got back to the internet to post again, some nice people had posted some nice comments about my last post, and I got all weirded out: the pressure to do another brilliant mildly funny post had me paralyzed.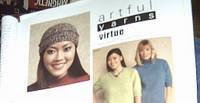 I did knit at Christmastime, though. This ad with the free hat pattern, from an old issue of Interweave Knits (Winter 2003), had been bugging me since I first saw it. I wanted to knit this hat, desperately, but I had no idea what Artful Yarns "Virtue" yarn might be like. I was holding out hope that I would somehow get to one of the "Fine Yarn Stores Everywhere" where this stuff was sold. Nope. A year later, and I still haven't gotten close to such a yarn store.


But in the past few months, reading all the inspirational blogs out there in knit-blog-land, a little something must have rubbed off. I finally read the pattern again, and noticed the nice little tension (gauge) recommendation. Duh! I knitted a swatch, and whaddayaknow, knitting with these five strands together came out to the recommended tension for three strands of Virtue. Three strands of rainbow Sox, and two strands of really old "Sayelle Knitting Worsted". (What does "sayelle" mean, anyway, acrylic? I don't recall seeing sayelle on any labels lately. Hmm.)


So I started knitting away, using my marvelous wiggly straight needles (Boye Knitmaster). The colour was exactly as I was hoping it would look. I found you really need to pay attention when you are knitting with five strands at once; it would only take one or two errant loops sticking out to wreck the look.
The only problem is the style is not one I am used to, it only covers the top halfs of my ears. Perhaps if I had less hair. Allow me to show you the hat, modelled by the phantom husband, whose hair is much shorter.


This is indeed what happened when I got DTH to model a hat so I could take a picture. I promised his face would not show, but you could imagine the pained expression he wore, even though the camera angle didn't show much face. DD17 took pity on his discomfort, and blacked out the evidence using PhotoImpression 4. The Yarn Harlot was right when she said (Oct27/04) that husbands made the most reluctant models.